CBD doesn't have to be complicated. But, with so many false sources and misleading information out there, it often feels like it is. When it comes to CBD, getting only credible, reliable information on the cannabinoid is crucial. Thankfully, we can rely on a few really educational apps to provide us with the CBD knowledge we deserve.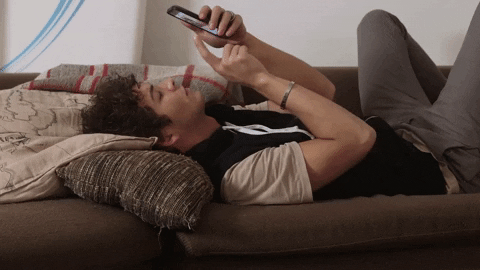 Leafly
Leafly is a Seattle-based cannabis website and application-- and it's the largest in the world. Its popularity is chiefly due to its extensive production of scientific yet conversational articles pertaining to all things cannabis. Anything CBD related is easy to find on their app, providing you with not only places to purchase your CBD products, but articles informing you about the cannabinoid's properties, structure, and anything else you'd wanna know.
The app provides accurate source data, links to only reputable businesses, and humor towards CBD that makes learning incredibly enjoyable. Leafly
Releaf
Releaf is an ideal CBD app for letting you track exactly how your products make you feel and record your experiences. To do this, the application asks for information pertaining to CBD percentages, as well as other cannabinoids, terpenes, and even the grower or manufacturer depending on your CBD product of choice. Each time you consume CBD and track it, the app will ask you about how you're feeling, both negative and positive. This way, you can stay away from products that don't give you the effects you're looking for, and easily remember the ones that do.
CBD Hemp Oil Calculator
Nothing is more frustrating than trying to calculate your own perfect doses when it comes to CBD oil. So, instead of trying to do the calculations yourself while standing at the health and wellness shop, let the CBD Hemp Oil Calculator do it for you. With this app, all you need to do is let the calculator know how much CBD the product has in total, its price per milligram, and other personal information like your weight or typical recommended dose. With all of this info, the hemp calculator app will give you a great insight into what your ideal dose of CBD is supposed to look like.
You can find CBD measurement instructions on all of Sugar and Kush CBD products' pages.
CBD Greens
CBD Greens, similarly to Leafly, provides CBD consumers a comprehensive guide into the world of cannabidiol and all it has to offer. With information on various different CBD products, where to buy them, and even the laws and regulations surrounding CBD where you may reside. Most questions that you may have about CBD can be answered through this app, and it's super easy to navigate, too. \
Just Click 'Download'
In this day and age, endless information is available at our fingertips. Whether that info is true or not depends on where we get it, so finding trustworthy, reliable sources to get our knowledge is crucial-- especially when it comes to CBD. Thankfully, all the apps we've provided above are well-known for their accurate, unbiased information and reviews.
Now, with these CBD apps, you'll never be left confused about your CBD oil or isolate again. Instead, you simply click 'download,' and you'll be taken a digital world full of credible answers.
Sugar & Kush CBD Helpful Links

Find out how CBD with no THC can be safe for drug tests.

Using CBD oil for anxiety and the benefits of using CBD Oil for anxiety are popular topics of studies world-wide.

Using CBD oil for pain can be a safe and effective way to find relief of symptoms for women.

CBD edibles can be an effective CBD product for pain relief, especially with our popular recipes for CBD baked goods.